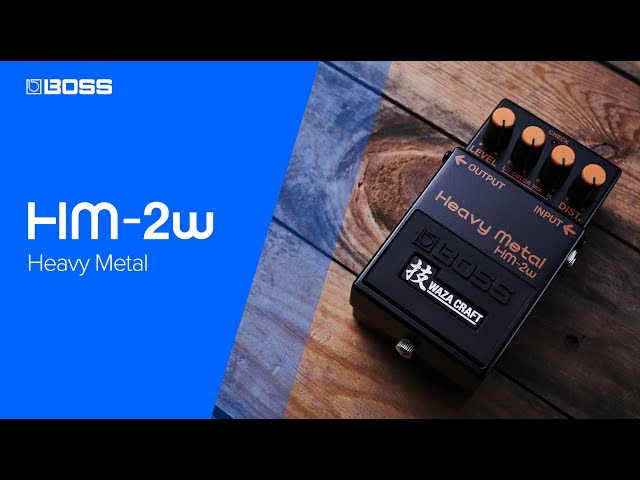 1
Boss HM-2W Heavy Metal Waza Craft
Item No. : 192851
In stock
Click & Collect
Pick up in store
Tuesday to Saturday
The specialist's opinion
Produced from 1983 to 1991, the BOSS HM-2 Heavy Metal is a true legend in the history of distortion pedals.
Her signature "chainsaw sound" with all knobs to the max is the defining voice of Swedish Death Metal, and the slightly softer sides of her personality can be heard on tracks ranging from Mainstream to Shoegaze.
After years of requests from hardcore HM-2 fans, the iconic pedal is reborn three decades later in a special Waza Craft edition. The HM-2W delivers the authentic analog sound of the original in all its glory, coupled with many modern refinements for enhanced performance. When the HM-2W is in Standard mode, the sound and response of the original HM-2 is reproduced with 100% authenticity. A few modern enhancements have been added without altering the sound, including reducing background noise and increasing the maximum level by 3 dB. And with the premium Waza Craft pad, the sound is enhanced when the pedal is bypassed. By pushing each button all the way, you get the sound of Swedish death metal, and you can create a wide range of sounds for other styles with the sensitive distortion and color controls. The HM-2W's Custom mode offers a similar sound to Standard mode, but with a bit more of everything. The attack stage has a bit more gain and includes more of the fundamental guitar tone for additional attack and sharpness. In addition, the characteristics of the bass and upper mids have been modified to provide more fullness and definition.
Specification
Générale
Bypass :
Buffered bypass
Entrées / Sorties
Entrées :
INPUT Jack
Sorties :
OUTPUT Jack
Réglages
Controls :
Pedal switch - Mode switch - DIST knob - COLOR MIX H knob - COLOR MIX L knob - LEVEL knob
Electronics
Input impedance :
1 M Ohm
Output impedance :
1 K Ohm
Power supply :
Alkaline battery (9 V, 6LR61) AC adaptor (PSA series: sold separately)
Consumption :
30 mA
Accessories
Incl. accessories :
Pile 9 volts
Dimensions and weight
length :
129 mm
Width :
73 mm
Height :
59 mm
Weight :
440 Gr
Miscellaneous
Fabrication :
Japan
Our specialists at your service
Electric / Acoustic Guitar Effects